Christmas is coming! And I'm sure you're all wondering what to get for those hard-to-buy-for people in your life. Well, luckily for you, I'm here to help! Because of course your loved ones like books, and you'd (hopefully) like to support me and my writing!
So, I've compiled a list of suggestions of books that I have had some hand in for you to check out.
First up is my short story collection! I'm still very happy with how this turned out.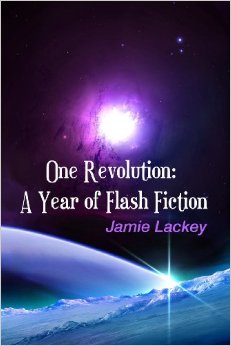 "Run the gamut from fantasy to science fiction to horror, and back again. Within these pages, you'll find blood sport set in space, fairies dancing in the firelight, bank robbery in a cyberpunk noir world, coming-of-age on Mars, a zombie shark, and much more.
One Revolution features stunning cover by Lukáš Zídka and contains twenty flash fiction pieces and one serialized short story. Flash fiction is a complete story told in under one thousand words—stories meant to be read in a single sitting. Martian Adventures, the serialized short story, takes readers to the future frontier on the surface of Mars and delves into the everyday lives of two children who live on the station.
Open up to a story about love or death, friendship or isolation, mythology or brains. Welcome to One Revolution."
Next is Triangulation: Lost Voices, which I edited this year. I don't have a story in it, but I can tell you that each story in this book is worth your time.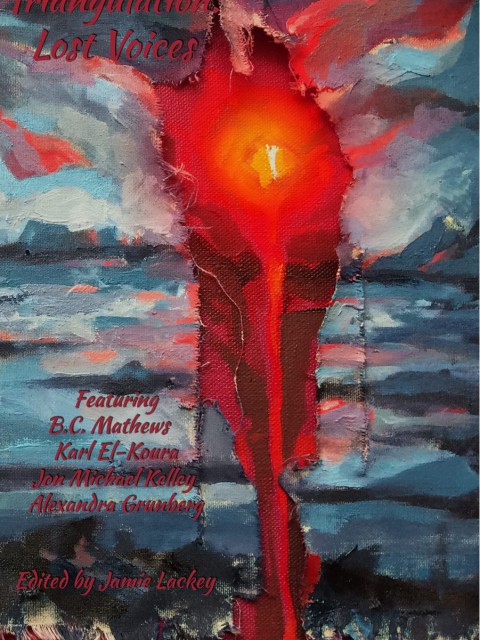 "Experience twenty-one separate visions of what a lost voice sounds like, from a silenced voice inside your head to the screaming of a long-dead alien species careening through space. Within these pages, you'll find superheroes and ghosts, living statues and vengeful rabbits, polar bears and sailing ships.
Will you listen to our lost voices?"
If you're looking for something funny for Christmas, check out the first UFO anthology.


"Unidentified Funny Objects is a collection of humorous science fiction and fantasy. Packed with laughs, it has 29 stories ranging from lighthearted whimsy to the wild and zany.
Inside you will find a zombear, tweeting aliens, down-on-their-luck vampires, time twisting belly dancers, moon Nazis, stoned computers, omnivorous sex-maniac pandas, and a spell-casting Albert Einstein."
If you're looking for award-winning horror, check out After Death…


"Death. Who has not considered their own mortality and wondered at what awaits, once our frail human shell expires? What occurs after the heart stops beating, after the last breath is drawn, after life as we know it terminates?
Does our spirit remain on Earth while the mortal body rots? Do remnants of our soul transcend to a celestial Heaven or sink to Hell's torment? Are we offered choices in an individualized afterlife? Can we die again in the hereafter? Is life merely a cosmic joke, or is it an experiment for something greater?
Included within this critically acclaimed anthology are answers to these queries alongside tales and suppositions relating from traditional ghosts to the afterlife of e-coli. Explore the afterworld of an Australian cowboy. Discover what the white light really means to the recently departed. Consider the impact of modern, or future, technology on the dead. Follow the karmic path of reincarnation. Travel from the 999th level of Fengdu's Hell to the gates of Robot Heaven.
Enclosed are thirty-four all-new dark and speculative fiction stories, individually illustrated by Audra Phillips, and exploring the possibilities "after death.""
If zombies are more your speed, you'll want to grab a copy of The Living Dead 2.


"The Living Dead 2 has more of what zombie fans hunger for — more scares, more action, more… brains! Experience the indispensable series that defines the very best in zombie literature with original stories by Kelley Armstrong, Karina Sumner-Smith, Carrie Ryan, Jamie Lackey, Genevieve Valentine, Brian Keene, Simon R. Green, David Wellington, David Barr Kirtley, Matt London, Joe McKinney, Walter Greatshell, Bob Fingerman, S. G. Browne, Jonathan Maberry, Mira Grant, Marc Paoletti, cherie priest, Robert Kirkman, Max Brooks, David Moody, Sarah Langan, Steven Gould, and John Skipp & Cody Goodfellow. In addition to these original stories, The Living Dead 2 features 18 additional reprint zombie stories. All this adds up to a Landmark volume that helps define what zombie godfather John Skipp calls "The New Zombie Literature.""
If none of those strike your fancy, you can check out more options on my Amazon Author Page or by clicking on "Writing Credits" at the top of the page.
Happy shopping!